Next Guild Events
Saturday 18th November - Llanbedr (6)
2.30 - 4.30: Practice, Service, Tea, Meeting
Saturday 2nd December - Llanfeugan
10.00 - 12.00: 8-bell practice
In Memoriam
Doug Davison, Guild Secretary for 28 years, died on 23rd December. His funeral will be at 3.45pm on Thursday 26th January at Llwydcoed Crematorium, Aberdare.
Retirement of Guild President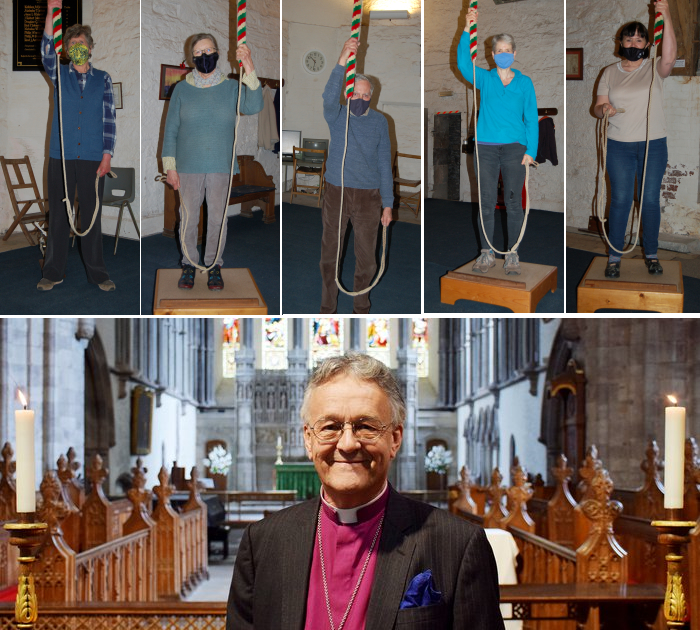 The retirement of the Guild President, The Most Reverend John Davies, on 2nd May was marked by ringing before his last service at the Cathedral. Members of the Brecon band rang in accordance with the strict Covid-19 conditions. Here are the details.
The Ringing World Front Cover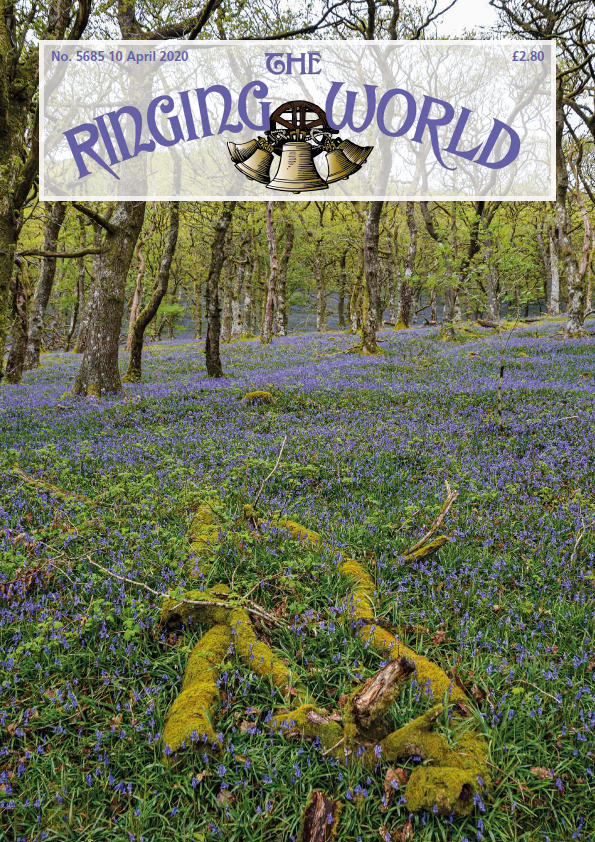 Congratulations to Claire Alexander for again getting one of her splendid photos in the front cover of The Ringing World.
Liz MacLean, Defynnog
I'm sorry to report that Defynnog ringing Liz MacLean died on Monday 16th March 2020. Liz and her husband Andrew learnt to ring in the late 1990s and became a Guild member in 2000.
New Bells and Ringers at Builth!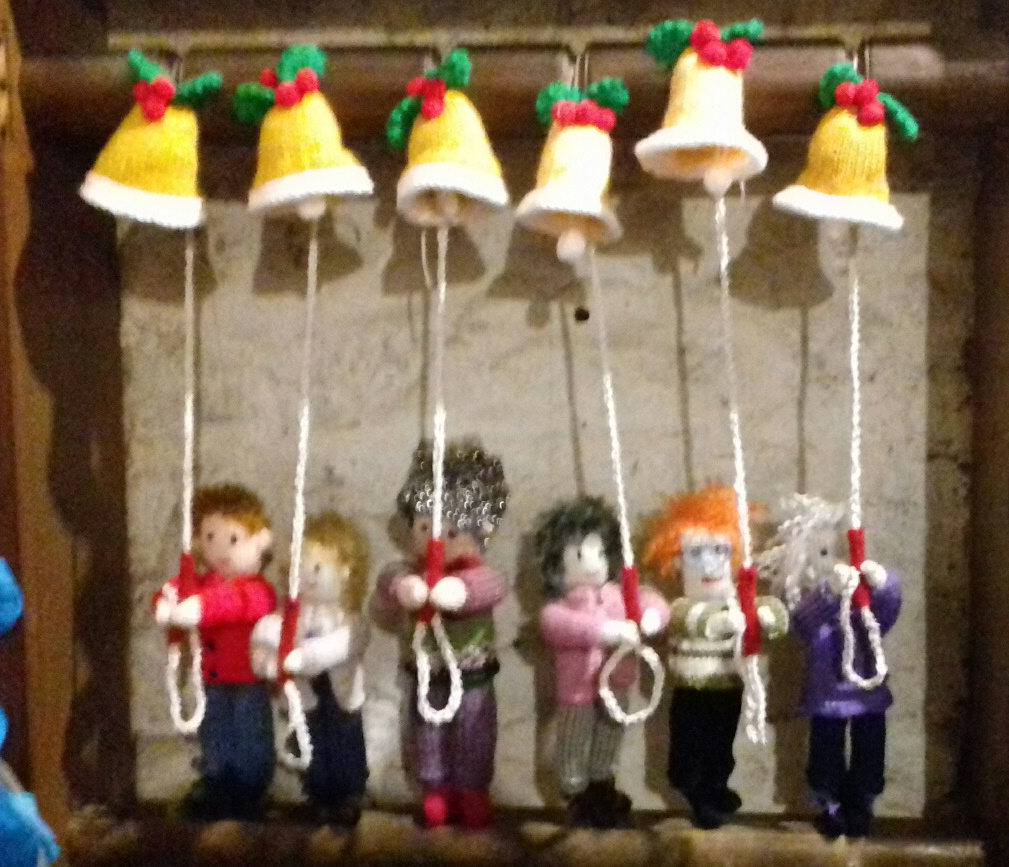 Brecon Cathedral Evacuation Exercise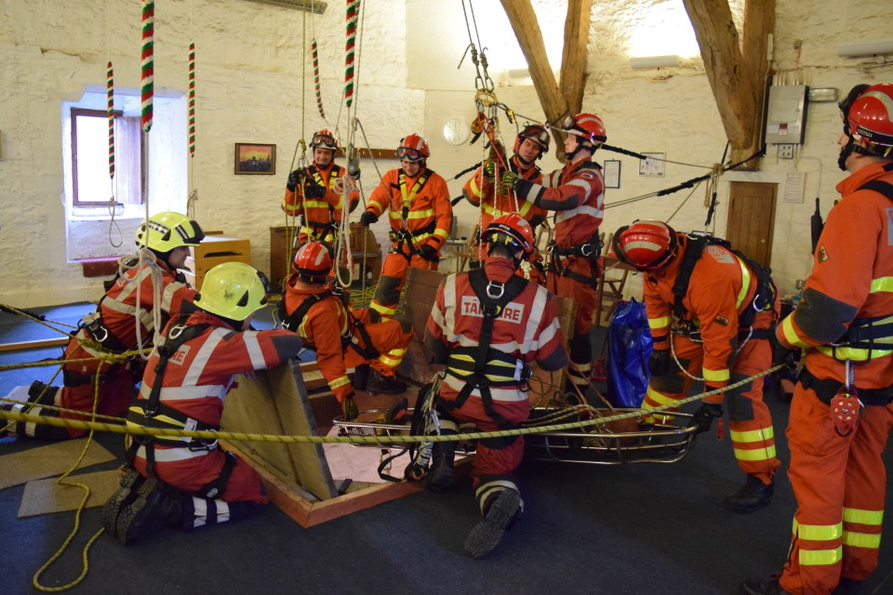 As those who have visited Brecon Cathedral ringing room know, access is difficult. So in order to be prepared for possible emergencies, exercises with the Mid and West Wales Fire and Rescue Service have been carried out. The Brecon station team demonstrated that evacuation by ladder from the roof would be possible in the event of fire closing the stairway. An immobile person would pose a more difficult problem. To prepare for this eventuality the Level 3 Rope Rescue Team practised lowering a stretcher from the ringing room trapdoor. Click the image to see them in operation.
Has your tower though about and practised dealing with such emergencies?
2019 Striking Competition
The 2019 competition was held at St Mary's, Builth Wells, on Saturday 13th July and judged by Peter Hayward of St David's Cathedral. Seven bands took part and the results (faults) were:
1st: Sketty (m) 7½
2nd: Brecon (m) 10½
3rd: Glasbury (c) 11½
4th: New Radnor (m) 18½
5th: Llanbedr Ystrad Yw (m) 20½
6th: Builth Wells (m) 57
7th: Builth Wells (c) 70½
(c - call changes, m - method ringing)
Peter Hayward (judge) presenting the shield to Nigel Davies (Sketty)
1st Sketty (Method Ringing)
2nd Brecon (Method Ringing)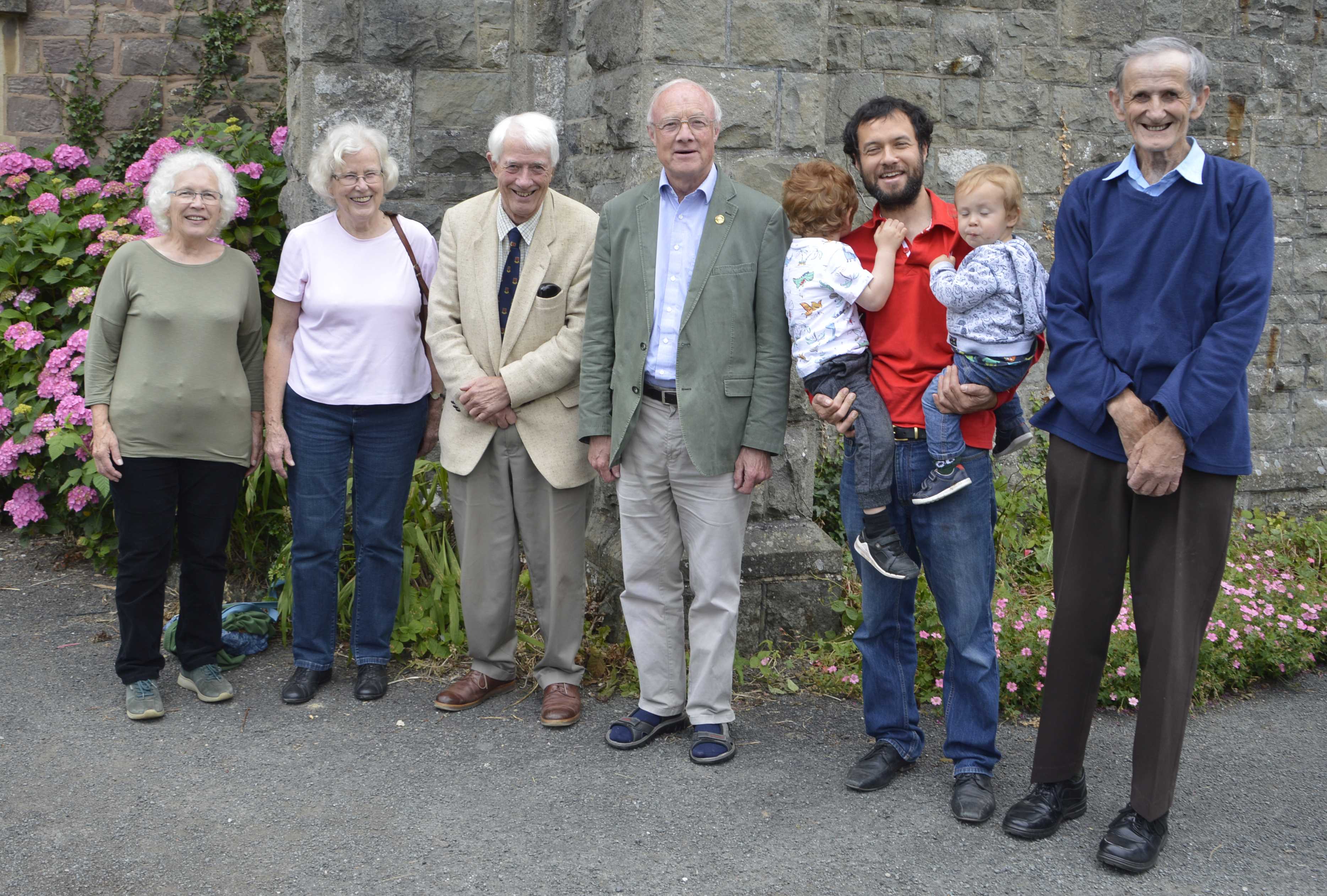 3rd Glasbury (Call Changes)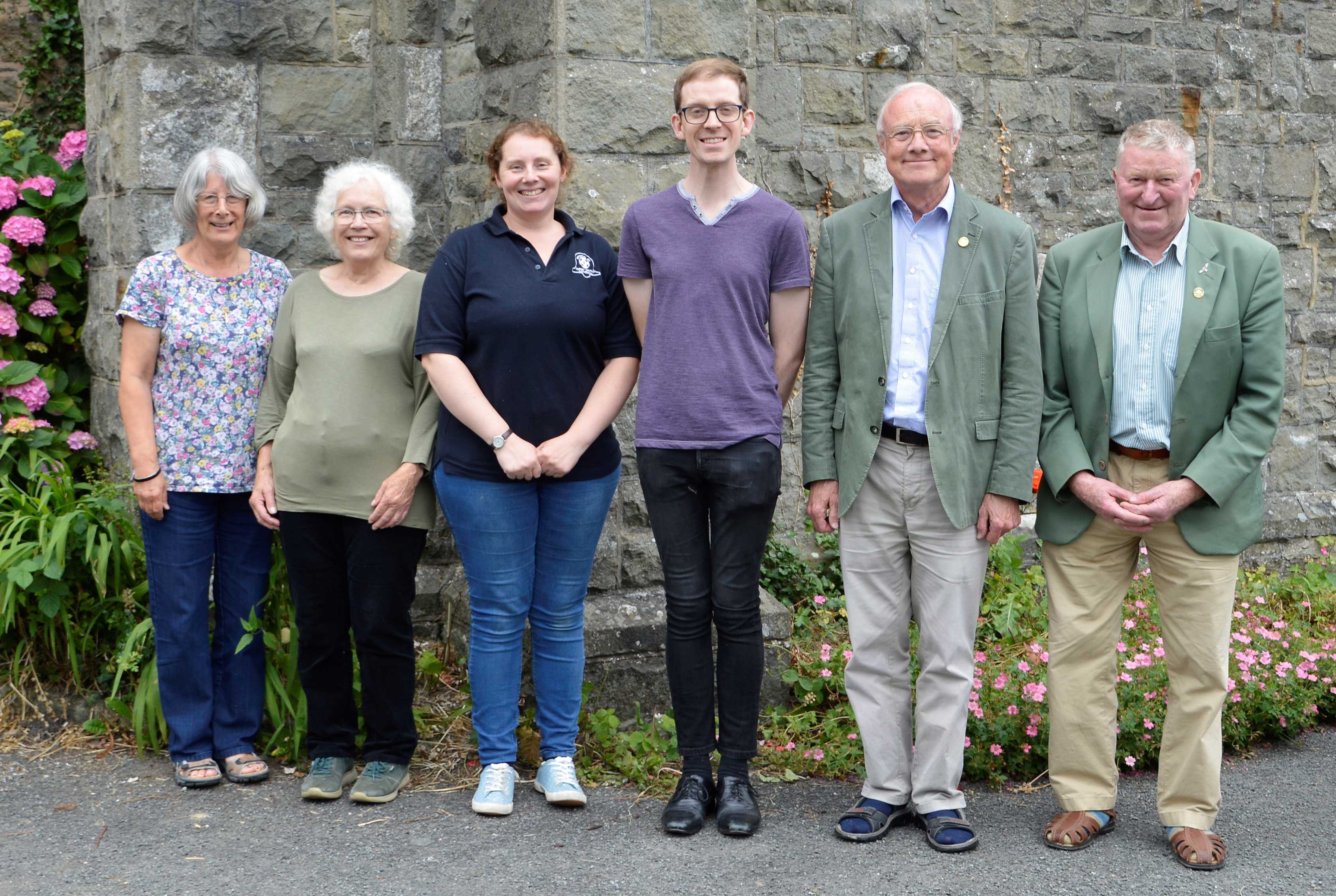 4th New Radnor (Method Ringing)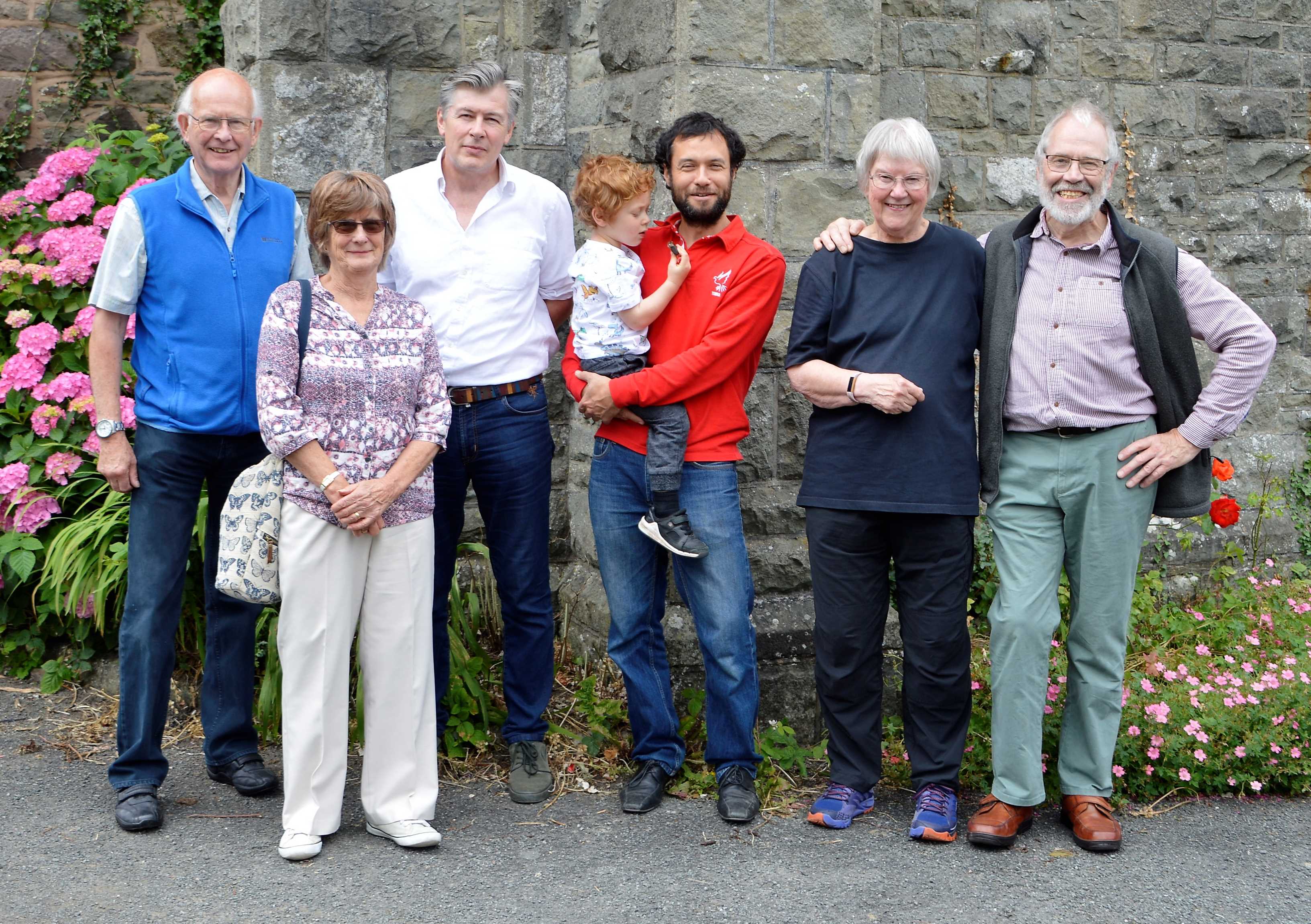 5th Llanbedr Ystrad Yw (Method Ringing)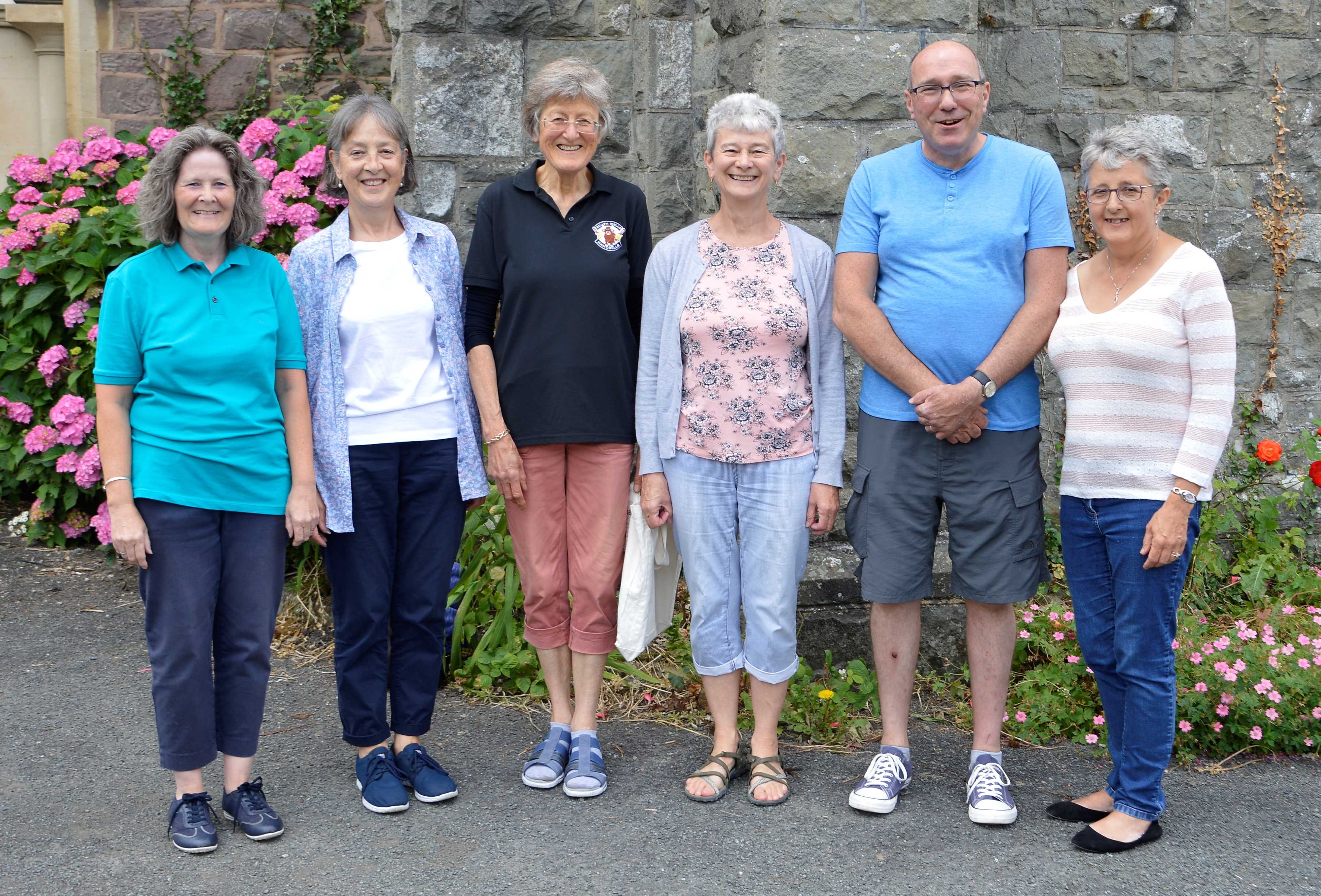 6th Builth Wells (Method Ringing)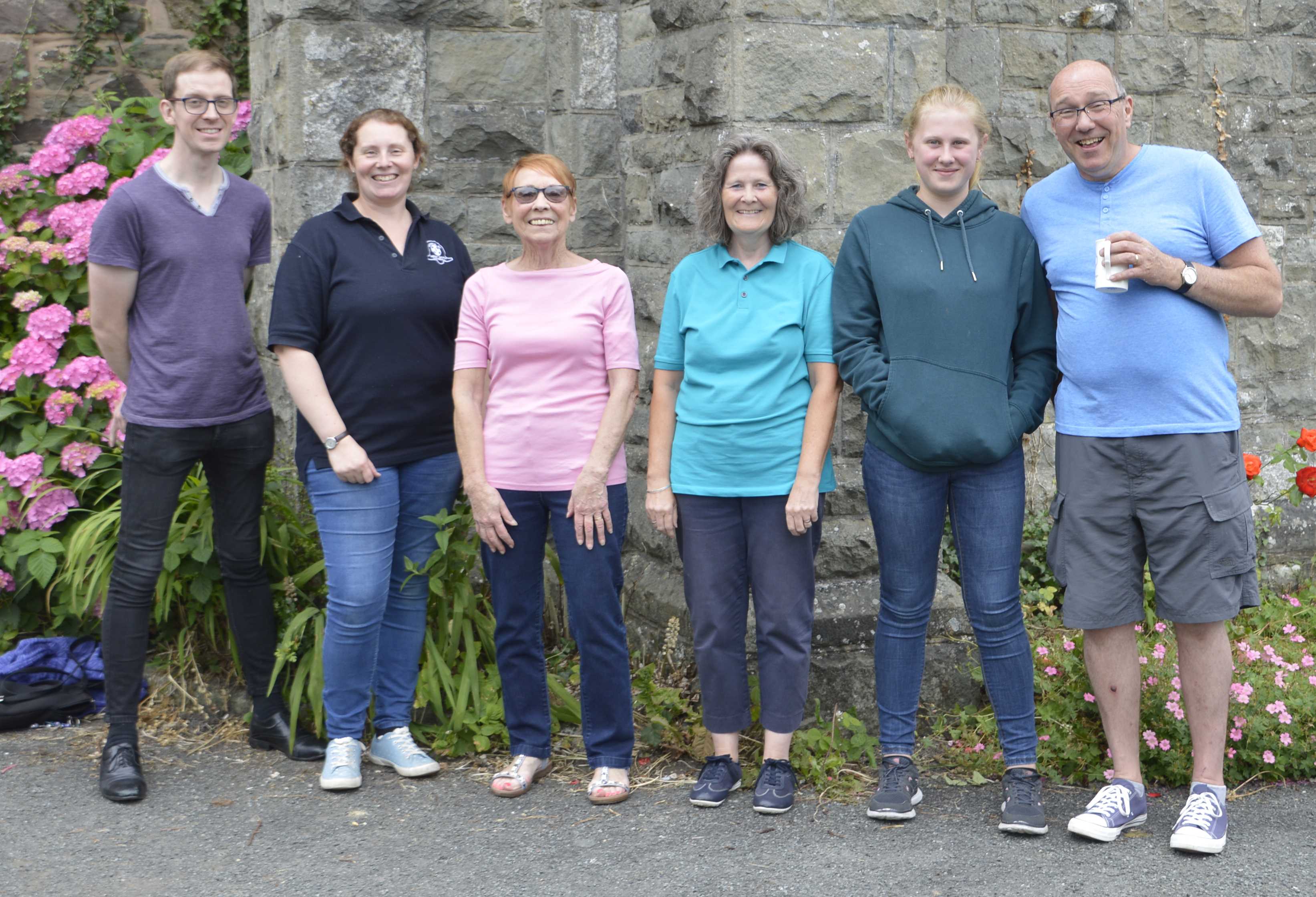 7th Builth Wells (Call Changes)
Click here for more of Claire's excellent photos of the day.
Ringing for Notre Dame
Guild ringing performances in solidarity with the cathedral community of Notre Dame can be found here , as recorded on BellBoard.
Please let know if any have been missed or if you have photos.
Brecon Cathedral Band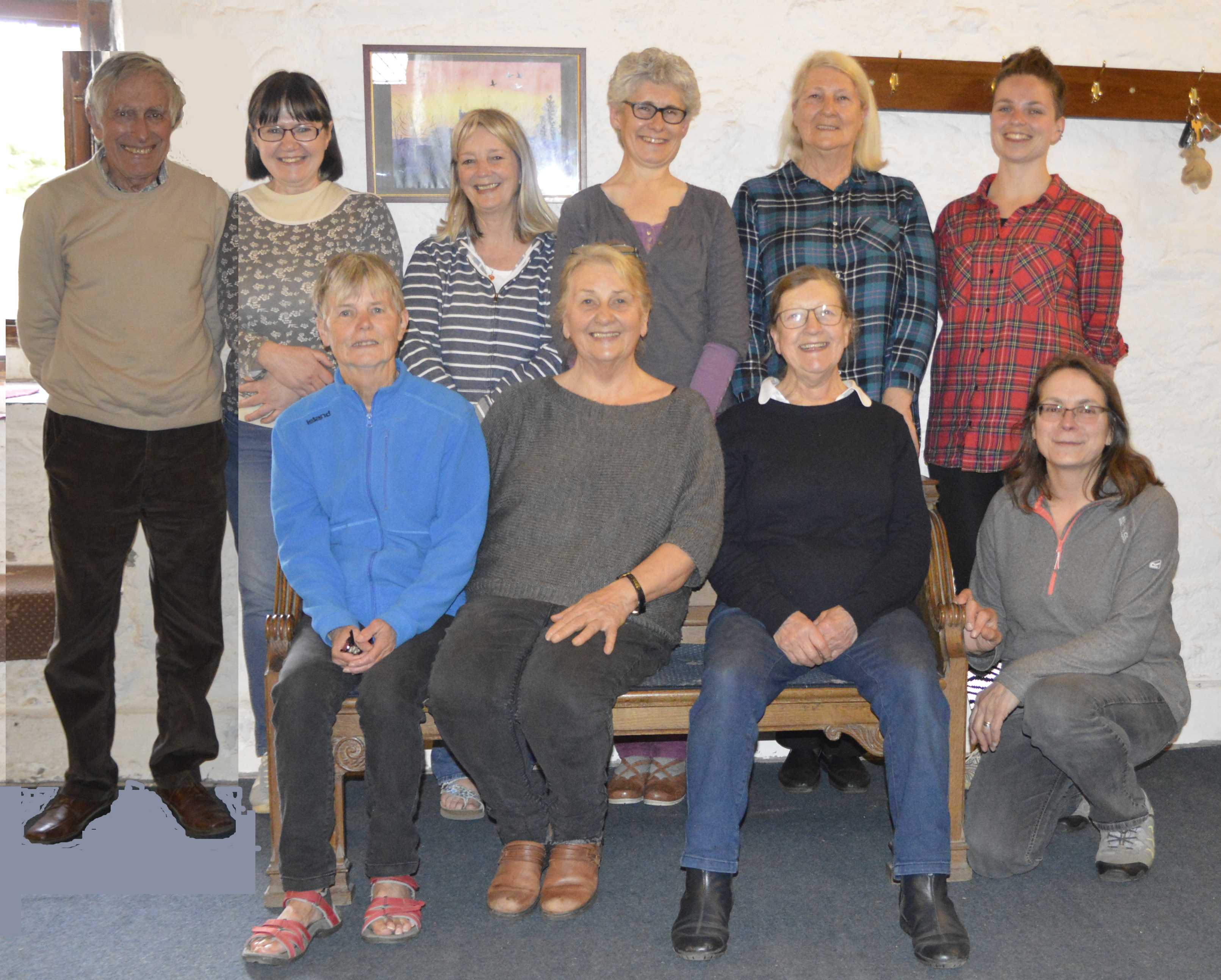 The Ringing World front cover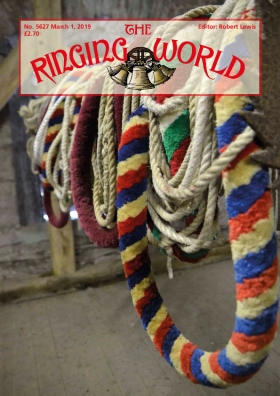 Well done, Claire, in getting your photo on the cover of the St David's Day issue of The Ringing World.
Good publicity for Brecon.
Ringing Remembers Follow Up
Brecon Cathedral - 11th November 2018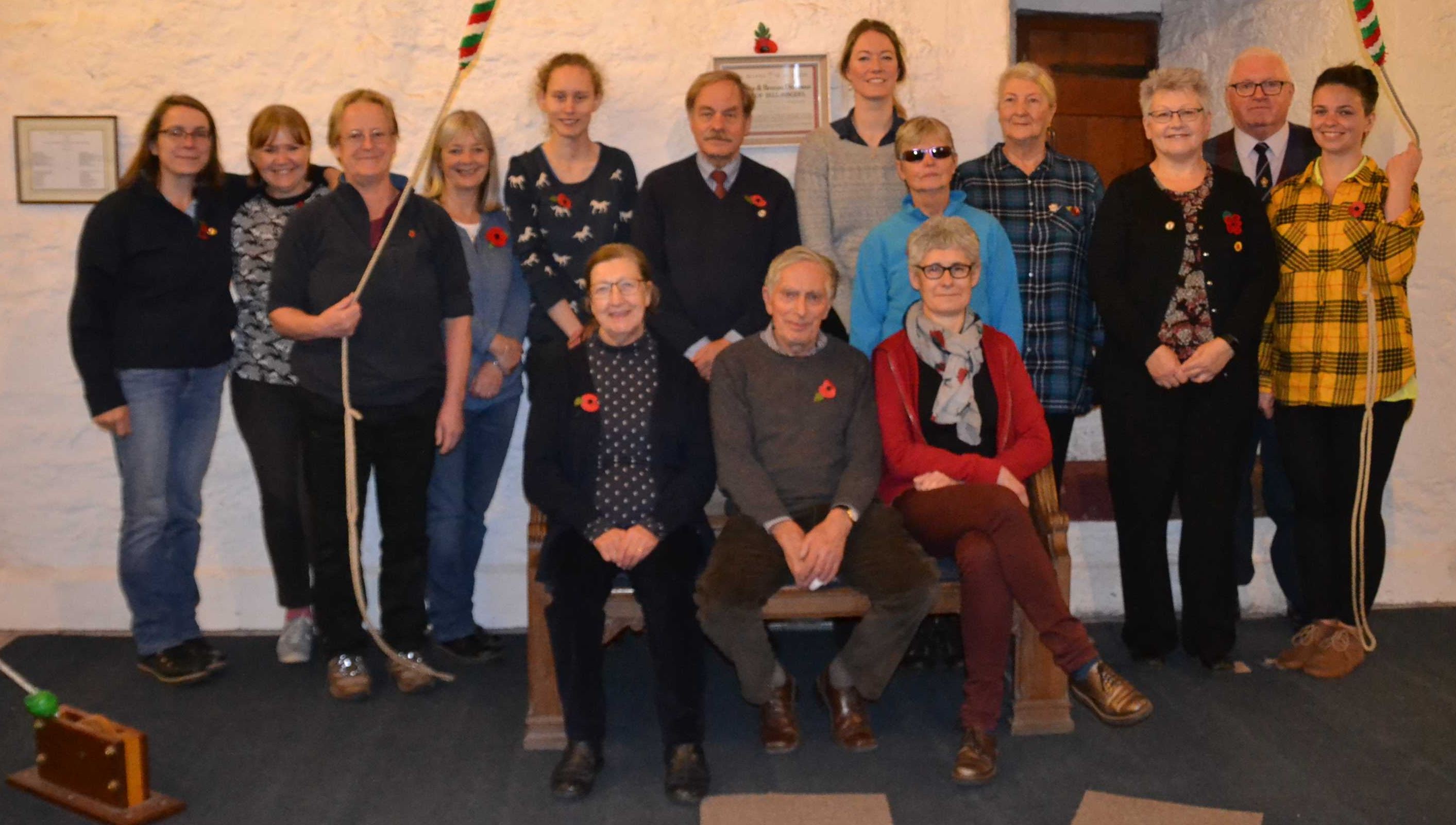 Here , on the Swansea and Brecon Diocesan website, is a short video of interviews with some of the Ringing Remembers recruits. It's also on the diocesan and the CCCBR Facebook pages.
Also a piece in 'Cymuned' , the diocesan quaterley magazine (pages 12/13).
OBIT
Doug Davision (23rd December 2022)
Cefn Coed
Anita Morgan (7th May 2022)
Swansea, St Mary
Ruth Stickland (April 2022)
Unattached member
Lisa Allen (2022)
Sketty
Brian Cox (2021)
Llangattock
Kevin Mcniff (August 2021)
Builth Wells
Gary Block (2nd July 2020)
Cwmdu
Olive Jones (March 2020)
Builth Wells
Liz MacLean (16th March 2020)
Defynnog
Gus Jones (29th October 2019)
Brecon
Roger Thomas (3rd July 2019)
Knighton
Roy Stickling (13th May 2019)
Knighton
Margaret Anderson (8th April 2018)
Knighton
Tom McCourt (4th June 2017)
Defynnog
David Jones (4th February 2017)
Llandefaelog Fach
Neville Powell (3rd February 2017)
Glasbury
Brian Werry (9th November 2016)
Llanelly
Michael Rose (11th July 2016)
Sketty, Honorary Vice-President
Sue Jablonski (6th February 2016)
Cefn Coed
Brecon Ringing Calendar
For people who wish to ring at any of the Brecon towers please click HERE to see what's going on.
Guild website
This is the revamped version of the guild website. All the usual stuff can be found using the menu tabs above. The biggest change is in the TOWERS page, with a map showing the widespread and geographically uneven distribution of the ringable guild towers (for those who didn't already know this!). It is intended to put tower contact details on the TOWERS page. Where these aren't at present shown, please email for the information. I should be glad if tower correspondents would let me know if any corrections or additions are required.
This home page will be devoted to announcements and news items. Contributions from tower correspondents and other guild members, including pictures, would be welcomed.
Quarter Peal Congratulations
Most methods to Q (3): Jean Hudman 27/11/22
300th Quarter Peal: Laura Childs 16/10/22
First Quarter Peal: Adrian Weiss 14/09/22
First in hand: Kath & Paul Johnson 24/07/20
Most methods to Q (4): Rosie Gibson 11/03/20
1st Surprise Major inside: David Katz 07/03/20
Most methods to Q (2): Jean Hudman 01/03/20
100th together: Tim Hollinghurst & Paul Johnson 13/02/20
First Plain Minor as conductor: Tim Hollinghurst 13/02/20
First Minor: Sian Shakespear 06/02/20
First Beverley S Minor: Wendy Medd & David Katz 02/02/20
First Stedman for over 50 years: Gerda Fewster 01/02/20
Most methods to Q (3): Andrew Williams 12/01/20
50th Quarter Peal: Claire Alexander 12/01/20
First Plain Bob Doubles Inside: Rosie Gibson 12/01/20
25th together: Claire Alexander & Paul Johnson 12/01/20
50th together: Kath Johnson & Jean Hudman 12/01/20
First Inside: Sian Shakespear 09/01/20
500th Quarter Peal: David Childs 31/12/19
50th Quarter Peal this year: David Childs 31/12/19
30th Quarter Peal this year: David Katz 31/12/19
First Minor: Wendy Evans 29/12/19
First Triples Inside: Wendy Medd & Andrew Williams 26/12/19
Most Minor methods to Q (4): David Katz 23/12/19
First away from cover: Kevin McNiff 16/12/19
First Major: Andrew Williams 08/12/19
First Inside: Clive Summers 04/12/19
First Quarter Peal: John-Louis Masters 04/12/19
First Inside to Mixed Doubles: Marian Katz 18/11/19
First away from cover: Sian Shakespear 27/10/19
1000th Quarter Peal: Kath Johnson 27/10/19
First Plain Bob Doubles Inside: Marian Katz 23/10/19
First Plain Bob Minor: Andrew Williams 23/10/19
First Stedman: David Katz 23/10/19
250th together: Laura & David Childs 23/10/19
First Plain Bob Doubles Inside: Marian Katz 23/10/19
250th as Conductor: David Childs 19/10/19
First covering to Triples: Andrew Williams 13/10/19
First Inside: Marian Katz 05/10/19
First Grandsire: Andrew Williams 26/08/19
First Grandsire: Jean Hudman 04/08/19
First Inside: Andrew Williams 26/07/19
First Quarter Peal: Sian Shakespear 21/07/19
First as Conductor: Nicky Startin 09/06/19
Circled Builth Wells tower: Linda Lewis 03/05/19
First Major Inside: David Katz 14/04/19
First Major: Wendy Medd 14/04/19
First Minor: Grace Dooley 07/04/19
First Ipswich S Minor: Wendy Medd, David Katz & Sarah Dempsey 22/03/19
First Norwich S Minor: Wendy Medd 03/03/19
50th Quarter Peal: Jean Hudman 28/02/19
First Cornwall S: Laura Childs, Sue Gomm, Barbara Fewster, David Childs & Hal Drysdale 24/02/19
First Minor & first for more than 43 years: Andrew Williams 30/01/19
First Spliced: Alison Alcock 16/12/18
First Quarter Peal: Jane Anderson 10/12/18
First Grandsire: Rosie Gibson 09/12/18
First Quarter Peal: Gethyn Price 24/11/18
50th Quarter Peal: Pauline Staples 21/08/18
First Plain Bob Triples: Pauline Staples & David Katz 21/08/18
First Triples: Jean Hudman 21/08/18
First away from cover: Grace Dooley 21/08/18
First Quarter Peal: Nikki Alderslade 18/08/18
First Cambridge S Minor: Polly Beck 21/07/18
First Quarter Peal: Brian Collins 20/06/18
First St Clement's CB Minor: Pauline Stables 08/06/18
First Major: Polly Beck 13/05/18
First Quarter Peal: Laura Jones 22/04/18
First Quarter Peal: Grace Dooley 25/03/18
First St Simon's Doubles: Rosie Gibson 09/03/18
First Minor Inside: Jean Hudman 28/01/18
First Minor: Marian Katz 14/01/18
Most methods to Q (7): Pauline Stables 06/01/18
First Quarter Peal: Marian Katz 08/12/17
First Inside: Rosie Gibson 18/11/17
First Norwich S Minor: Sue Gomm 09/08/17
First Quarter Peal: James Bessant Davies 22/05/17
Most methods to Q (5): Pauline Stables 20/04/17
First away from cover: Claire Alexander 05/03/17
First Plain Minor: Rosie Gibson 27/01/17
First Treble Bob Inside: Pauline Stables 20/11/16
First Treble Dodging: Rosie Gibson 20/11/16
First Norwich S Minor: Polly Beck & David Katz 14/10/16
First Quarter Peal: Alec Edwards 13/10/16
First on 8: Pauline Stables 01/10/16
First Grandsire Triples: David Katz 01/10/16
First Major: David Katz 25/09/16
Most methods to Q (4): Pauline Stables 11/09/16
First Grandsire Triples: Ellie Williams 16/08/16
First Cambridge S Minor: Ellie Williams 16/08/16
First London S Minor: Laura Childs 16/08/16
First on Tenor: Alan Charters 15/07/16
Most methods Inside (5): Ellie Williams 01/06/16
First Surprise: David Katz 27/05/16
First Treble Bob: Ellie Williams 16/05/16
100th Quarter Peal: David Katz 24/04/16
Most methods Inside (3): Pauline Stables 24/04/16
Most methods Inside (3): Caitlin Power 28/02/16
Circled tower (Builth Wells): Tim Hollinghurst 24/01/16
First Plain Bob Minor: Ellie Williams 24/01/16
First Inside: Ellie Williams 04/01/16

Guild Performances since the first Covid Lockdown
All performances reported on BellBoard and attributed to the Guild between 26 March 2020 and 28 February 2022 can be found here.

His Royal Highness

The Prince Philip, Duke of Edinburgh

1921 - 2021
&nbsp
Details of In Memoriam tolling of bells in guild towers can be found here.
In addition Brecon Cathedral bells were rung half-muffled for morning service on Sunday 11 April. The socially distanced combination of four bells sounded particulary mournful.
Early Newspaper Extracts relating to Guild Towers
The absence of ringing has giving me the opportunity to press on with my project to collect items from early newspapers and other source which refer to bells and ringing in current guild towers. The results so far can be seen here.
Please let know of any errors, omissions or any problems with accessing the information
Paul Johnson
Retiring Secretary Doug Davison
On his retirement as Guild Secretary for 28 years, Doug Davison was made an Honorary Vice-President and presented with a splended wooden bell made by Hal Drysdale, Tower Captain of Glasbury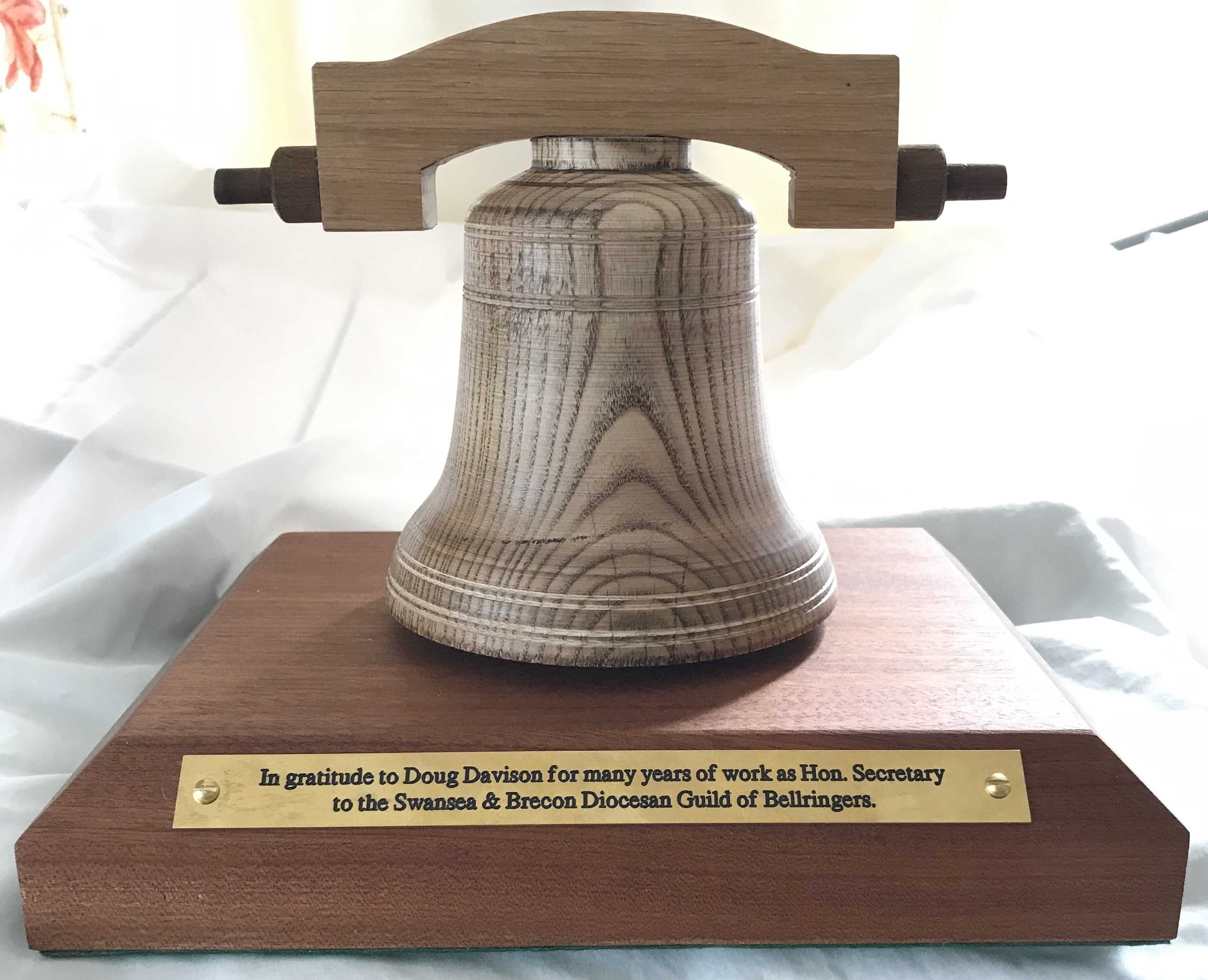 David Katz (Master)and Doug Davison (retiring Secretary)
Leslie Evans Trophy 2019
The Leslie Evans Trophy for progress in ringing during the year was awarded to Andrew Williams from Llandebr Ystrad Yw.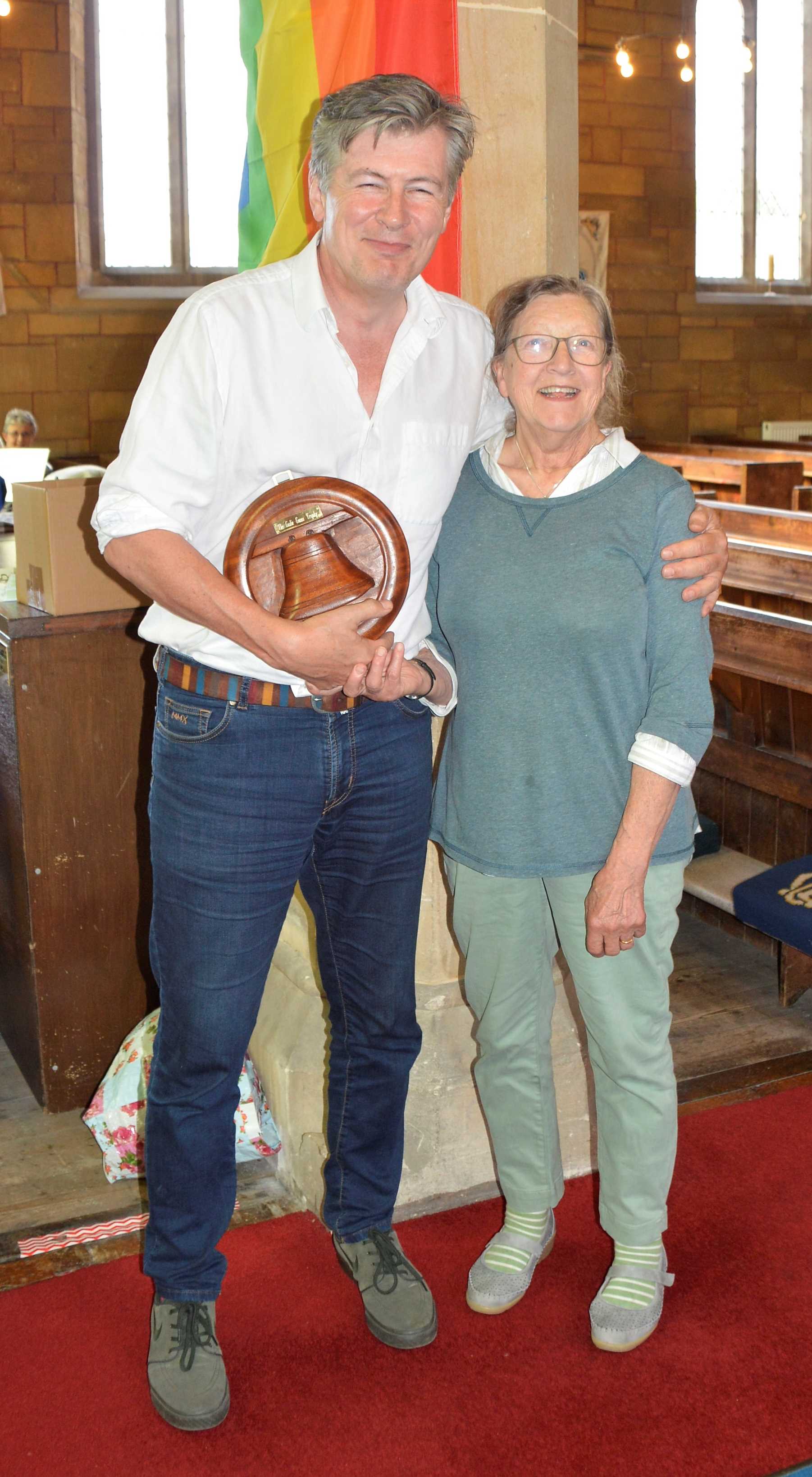 Andrew Williams and Training Officer Kath Johnson
Glasbury Flower Festival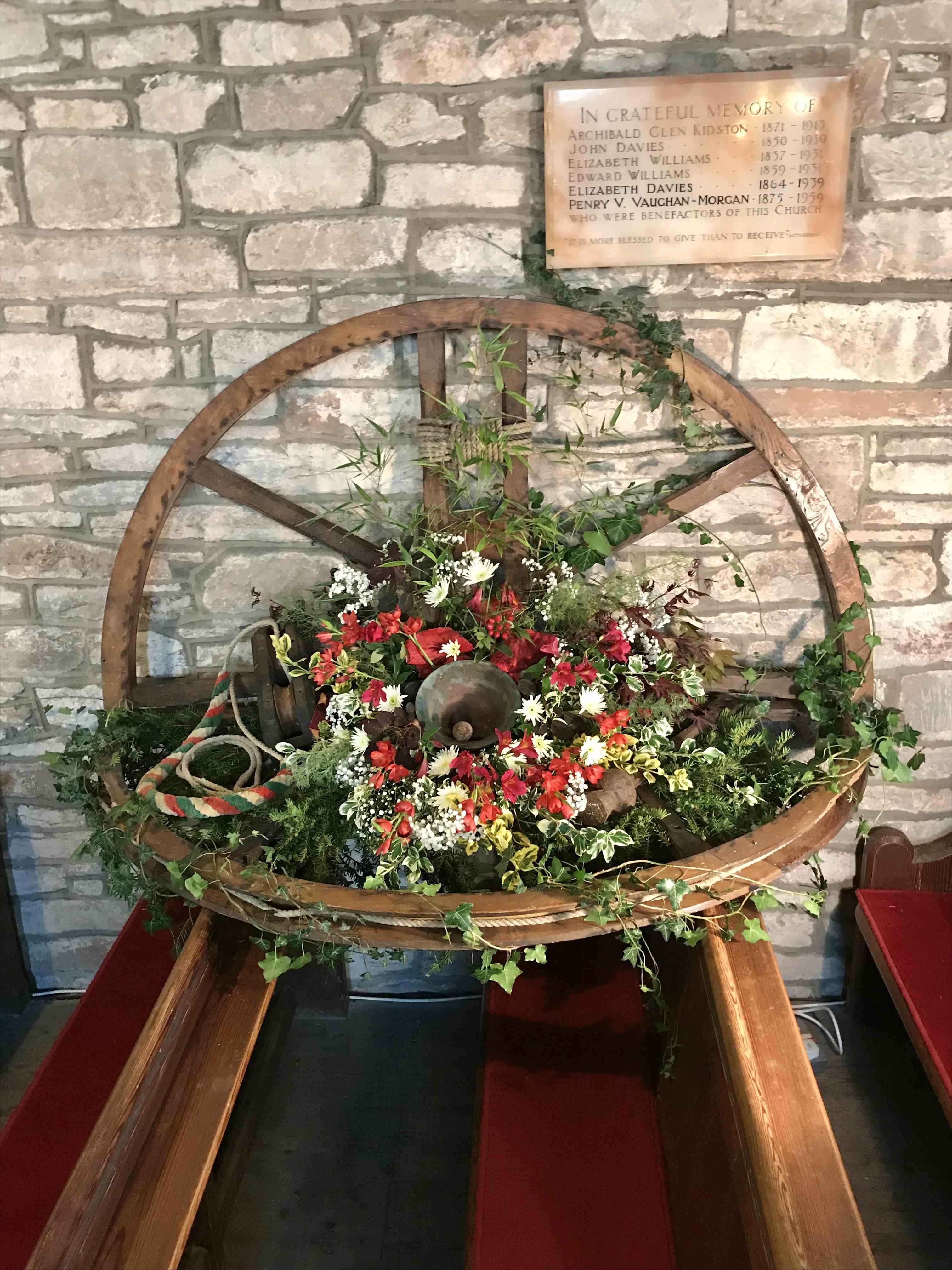 St Cynidr & St Peter's Church Glasbury held a flower festival over the weekend of 6th October. The theme was a "Harvest of Skills", including different displays around the church from various groups (such as photography, music, astronomy, baking, gardening, farming, etc). Glasbury bellringers featured in the exhibition, contributing this floral display by Hal & Becky Drysdale and Alison Alcock. Saturday afternoon turned out well; several visitors came up to the ringing room, including two families. At least four adults tried their hands at backstrokes and one - an engineer - got quite a long way towards combining the strokes on his first attempt. Several children chimed various bells. An excellent mini-open day.
Guild Peal Books
The guild peal books are in the process of being scanned and the results can be found in the 'Peals' section here. The relevent report from the Ringing World is displayed with each entry.
Michael Barritt Rose
4 September 1940 – 11th July 2016
Obituary by Richard Rose for Sketty Bell Ringers here.
Mr Charles Powell
Charles Powell was the first Guild Treasurer, occupying the post from 1923 to 1939. On his retirement he was presented with a clock 'in recognition of his faithful service as Treaurer'. His great grandson, Steve Hogg, provided the photos of the clock which has been restored and is now 'working like a dream'.